Du möchtest Teil eines jungen und internationalen Teams mit einer Mission sein? Mehr über Social Impact, Social Entrepreneurship und Innovation erfahren? Fähigkeiten im Event Management, Social Media Management und Facilitation entwickeln?
Dann bist Du bei uns genau richtig!
Wir suchen Volunteers, die mit Leidenschaft am Lernen an Herausforderungen herantreten und sich gerne neuen Erfahrungen stellen. Während des 6-monatigen Volunteering Program unterstützt Du unser Team beim Eventmanagement, bei Werbeaktivitäten, Workshopvorbereitung sowie Recherchen und anderen coolen Projekten.
Möchtest du Teil des jungen und internationalen Teams werden? Dann freuen wir uns über Deine Bewerbung! Mehr Infos gibt es hier.
---
Would you like to be a part of the young and international team with a mission? Learn about social impact, entrepreneurship, and innovation? Develop skills in event management, social media management, and facilitation?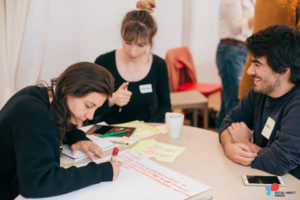 Then you are in the right place!
We are looking for people dedicated to learning and open to new experiences to join our team of volunteers. During the 6-months volunteering program, you will support our team with event management, promo activities, workshop preparation, research, and other cool projects.
Would you like to be a part of the young and international team? Then we look forward to your application! You can find more information here.