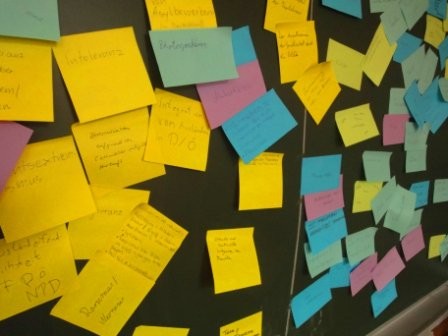 The Social Impact Awar workshoptour is on in full force! In the next few weeks, young people in Dornbirn, Vienna, Linz, Innsbruck, St. Pölten, Graz, and Klagenfurt will have the chance to generate new ideas and take the first steps towards becoming social entrepreneurs.
So far, we have seen a variety of interesting projects and ideas. Here are just a few to give a taste of what is possible…
A group of law students offering playful legal literacy workshops, to help school kids understand the legal system around them
Initial designs using chemistry to make packages that senses when your food is going bad
Employing people with a history of poverty to advise others on how to live with less
Whatever your idea, we want to learn about it and help you turn it into a sustainable project or social enterprise that helps others! Check out the next workshops and submit your ideas to the Social Impact Award!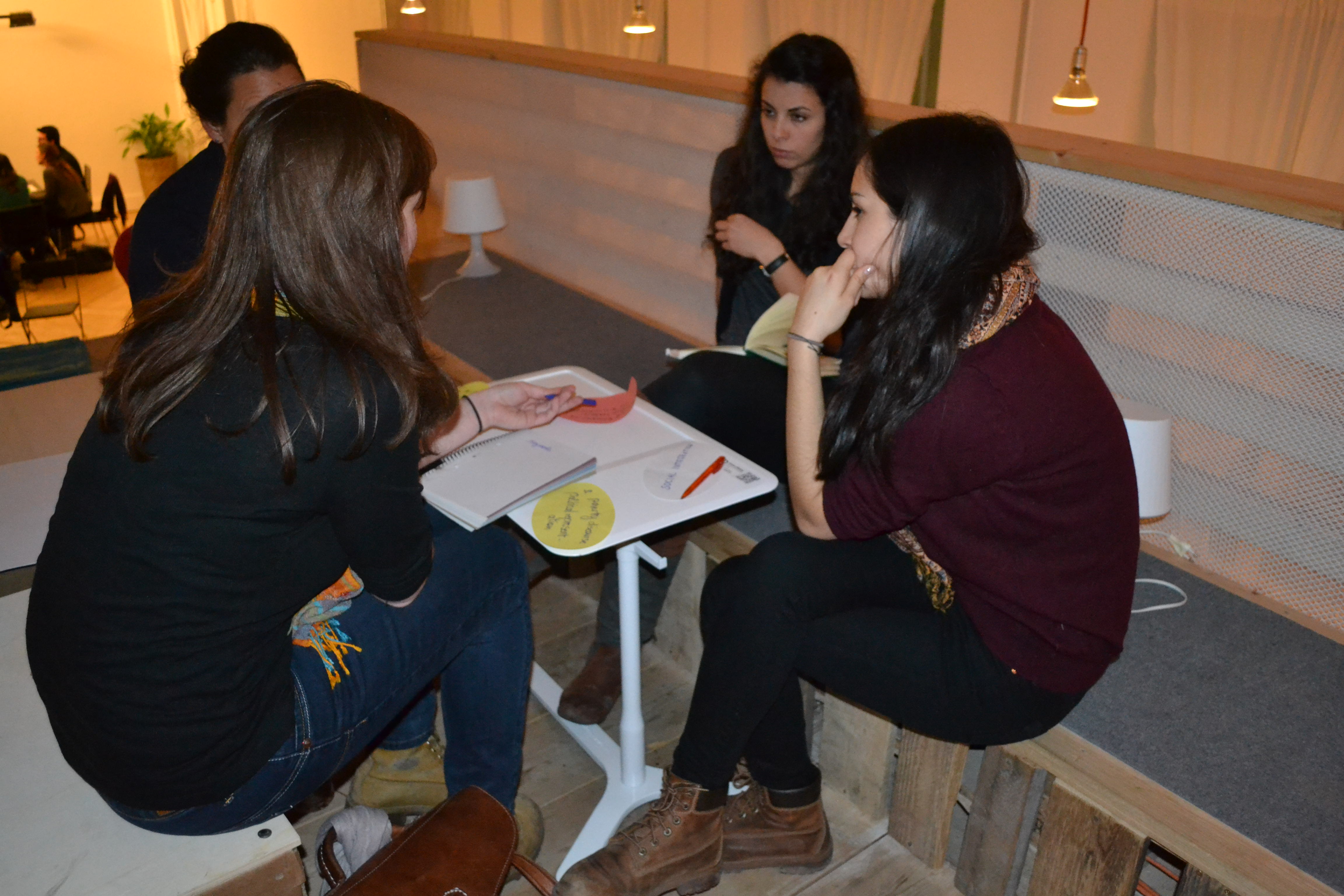 The Social Impact Award began its workshop tour in January and will resume on February 28th with Idea Generation in Krems. Many ideas and new projects got started in January and have the chance to further develop in the weeks ahead. Whether you´re in Vienna, Styria, Vorarlberg, or somewhere in the middle, there´s a good chance there will be a workshop close by! Check out all the dates here and sign up for the one nearest you.
Don´t forget to submit your project idea to us by April 15th at 6pm!
Good luck to everyone and see you at a workshop soon,
SIA Austria Team

Happy Holidays – Let's Change the World in 2014
Dear SIA Friends,
As the holiday season is upon us, and the year is coming to a close, we are taking the opportunity to
thank all of you for helping us create an impressive Impact in 2013!
• Four teams were selected for a Social Impact Summer stipend.
• More than 90 engaged student teams wrote down their business plans and submitted their
projects.
• Over 400 people took part in our workshops over the past year.
We could not have achieved this without support from you, our community, and for that we are
grateful!
As one year ends, the next is about to begin – and the Social Impact Award is back for 2014. After a
relaxing holiday break, we invite you to help us take off in the new SIA year:
• Social Impact Award Kick-Off
January 14, 2014 at 19:00
@ Impact Hub Vienna – Lindengasse 56 / 18-19, 1070 Vienna
You helped us make the world a better place in the year that has gone by, let's do it again in 2014!
After the Kick-Off we hope to see you at our Workshops, starting with:
• Idea Generation
January 17, 2014 at 16:30
@ Impact Hub Vienna – Lindengasse 56 / 18-19, 1070 Vienna
More workshop dates will be announced soon!
Wishing you a happy holiday season,
Your SIA Austria Team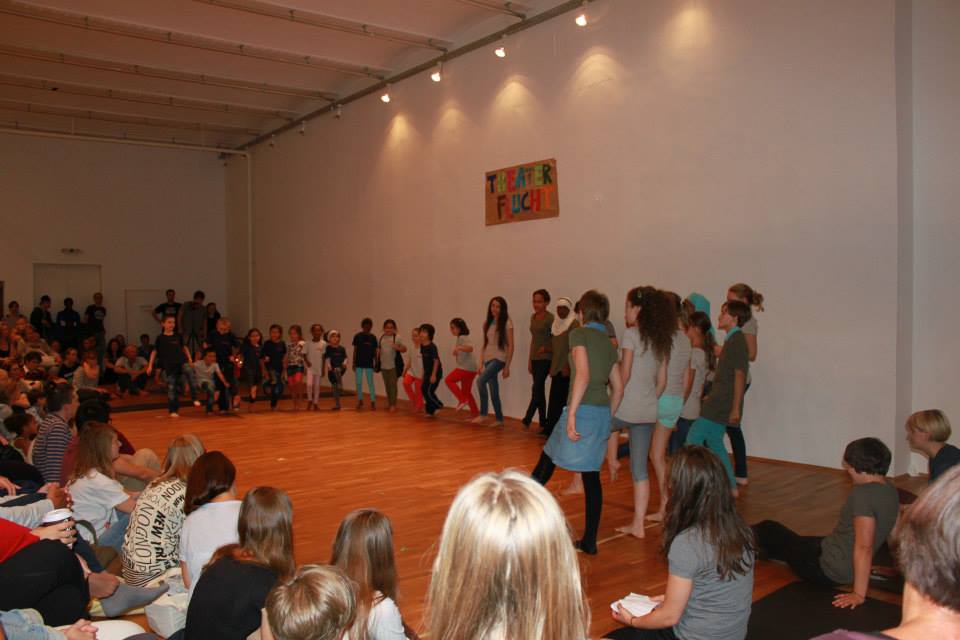 Erfolgreiches 2013 für Theaterflucht
Seit ihrem SIA-Gewinn letzten Sommer arbeitet Theaterflucht fleißig und konnte ihren Kindern heuer großartige zwei Wochen bieten, wie in diesen Bildern ja sofort erkennbar ist! Die Planungen für nächstes Jahr stehen auch schon am Start, aber zuerst mal ein kleines Video –
Gratuliere Theaterflucht und viel Erfolg im neuen Jahre!
-SIA Österreich Team
Mehr über Theaterflucht könnt ihr auf Facebook sowie ihrer Homepage finden.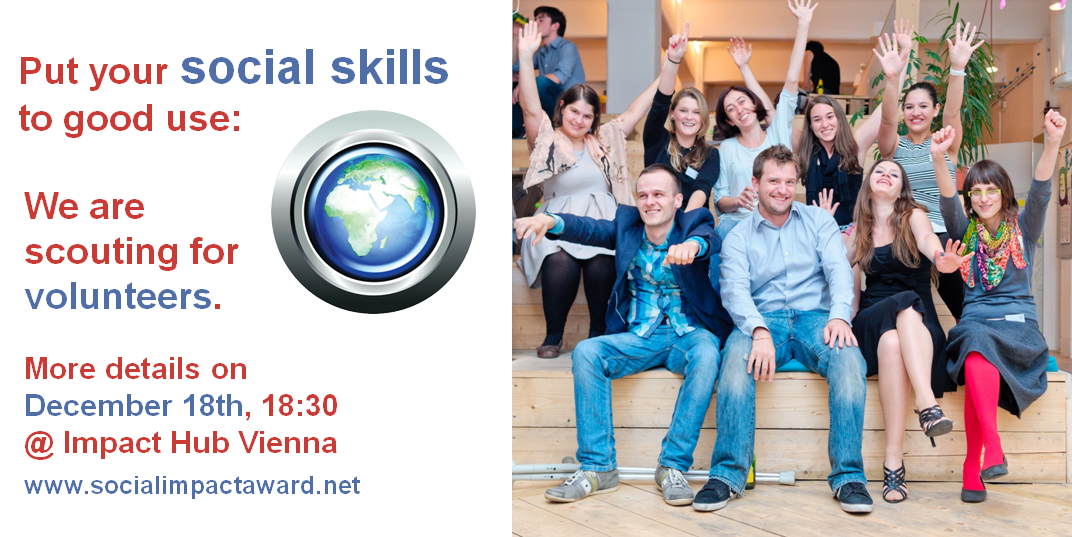 Call for SIA 2014 Volunteers
We are looking for volunteers to help us rock SIA 2014! If you are interested in social entrepreneurship and want to get involved in a growing community of pragmatic change-makers, come check out our info evening:
Volunteer Info Evening
December 18th, 18:30
Impact Hub Vienna – Lindengasse 56 / 18-19, 1070 Vienna.
As a volunteer, you have the opportunity to:
-Witness and help develop exciting ideas that will change our society
-Get engaged in a social project with other young, like-minded people
-Gain deep insight into the Austrian social entrepreneurship scene, meeting experts and other important players
-Experience an inter-cultural working environment with flexible hours
In return we ask for your support in:
-Event work
-Social media promotion
-Participant communication
-IT
-Translation
-Have an idea for how to make SIA better? Let us know!
Almost there
You need to register in order to submit your bulletin & vote.
We care about your privacy.
Read Privacy Policy .
× close