Karriere
Join us and create impact at scale.
Seit 2009 unterstützen wir engagierte, junge Menschen dabei, ihre innovative Tatkraft in konkrete, Projekte, Initiativen und Sozialunternehmen mit systemischer Wirkung zu verwandeln.  Mit mehr als 1.000 Initiativen, die bis heute durch SIA in Europa, Afrika und Zentralasien gegründet wurden, und jährlich über 8.000 Teilnehmenden hat sich SIA zu einer der weltweit größten aktiven Gemeinschaften für bürgerschaftliches Engagement junger Menschen entwickelt. In dieser Zeit hat SIA mehr als 40.000 junge Menschen in 26 Ländern ausgebildet und über 350 Teams mit Preisen und Pre-Seed-Finanzierung ausgestattet.
Und wir sind gerade erst am Anfang. Wir stehen kurz davor, in den kommenden Jahren ein signifikantes Wachstum mit noch stärkerer Präsenz und Wirkung auf der ganzen Welt zu erreichen. Wir verpflichten uns, weiterhin eine global vielfältige Gemeinschaft von Einzelpersonen und Organisationen zu fördern, die durch die Vorstellungskraft und den Antrieb vereint sind, unternehmerische Ideen für die Welt zu verfolgen.
Als Teil dieser Entwicklung suchen wir nach außergewöhnlichen Persönlichkeiten, die von der Überzeugung angetrieben werden, dass die Jugend den Unterschied machen kann. Wir sind auf der Suche nach DIR!
SIA Volunteer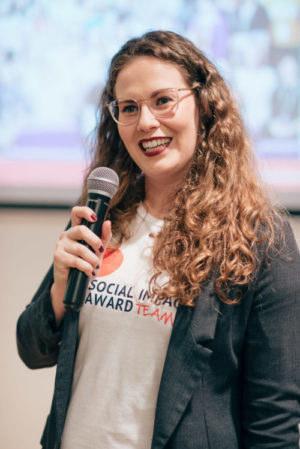 Would you like to be a part of the young and international team with a mission? Learn about social impact, entrepreneurship, and innovation? Develop event management, social media, and project management skills?
Then you are in the right place!
We are looking for people dedicated to learning and open to new experiences to join our team of volunteers based in Vienna and Berlin. During the 6-months volunteering program, lasting from January to July, you will support our team with different activities.
To maximize the learning experience, we have different roles for our volunteers in both cities. You can read more about them below and decide which one(s) suits you best. For more information go here!