A new report published by SustainAbility gives a new insight into Business Model Innovation for sustainability around the world. We recommend you have a look at it and get inspiration for your projects. We also invite you to come up with novel models for your projects. Nothing better than testing your model over the summer. Below you find excerpts from the blog post they published on the report. "The idea of […]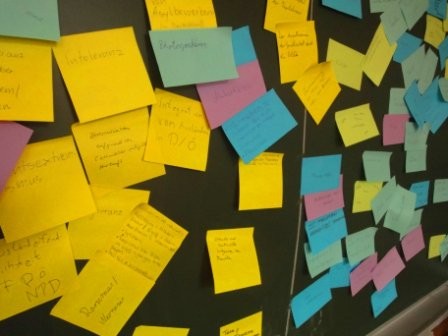 The Social Impact Awar workshoptour is on in full force! In the next few weeks, young people in Dornbirn, Vienna, Linz, Innsbruck, St. Pölten, Graz, and Klagenfurt will have the chance to generate new ideas and take the first steps towards becoming social entrepreneurs. So far, we have seen a variety of interesting projects and ideas. Here are just a few to give a taste of what is possible… A […]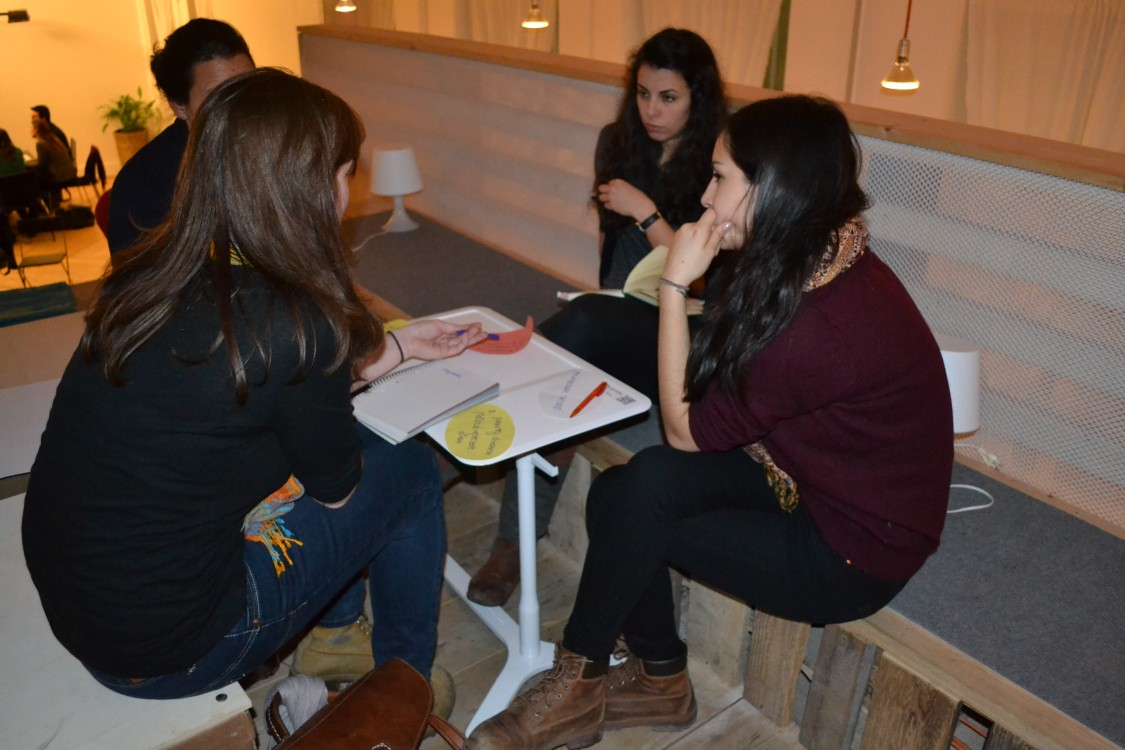 The Social Impact Award began its workshop tour in January and will resume on February 28th with Idea Generation in Krems. Many ideas and new projects got started in January and have the chance to further develop in the weeks ahead. Whether you´re in Vienna, Styria, Vorarlberg, or somewhere in the middle, there´s a good chance there will be a workshop close by! Check out all the dates here and […]


Dear SIA Friends, As the holiday season is upon us, and the year is coming to a close, we are taking the opportunity to thank all of you for helping us create an impressive Impact in 2013! • Four teams were selected for a Social Impact Summer stipend. • More than 90 engaged student teams wrote down their business plans and submitted their projects. • Over 400 people took part […]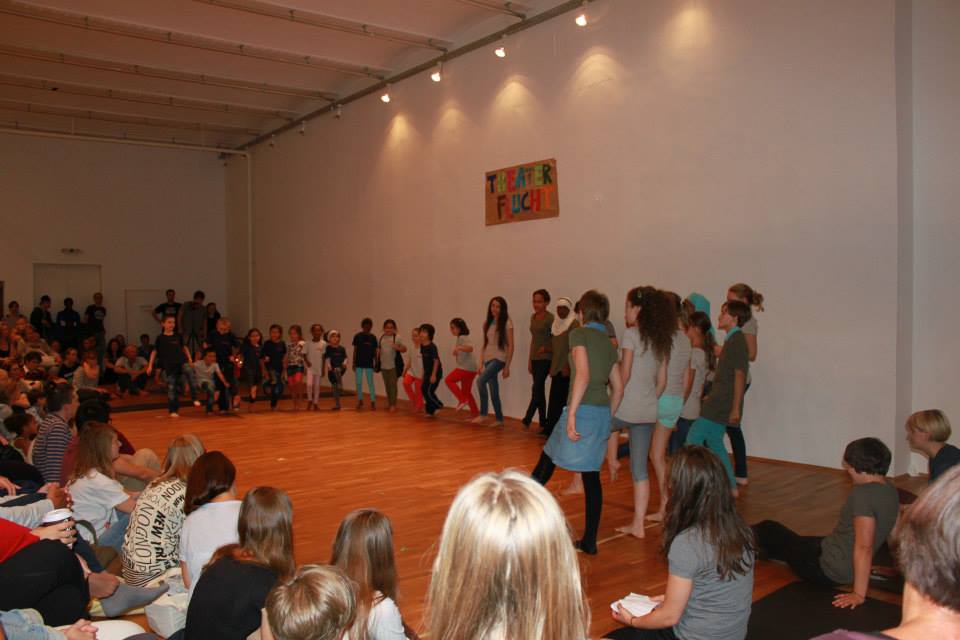 Seit ihrem SIA-Gewinn letzten Sommer arbeitet Theaterflucht fleißig und konnte ihren Kindern heuer großartige zwei Wochen bieten, wie in diesen Bildern ja sofort erkennbar ist! Die Planungen für nächstes Jahr stehen auch schon am Start, aber zuerst mal ein kleines Video – Gratuliere Theaterflucht und viel Erfolg im neuen Jahre! -SIA Österreich Team Mehr über Theaterflucht könnt ihr auf Facebook sowie ihrer Homepage finden.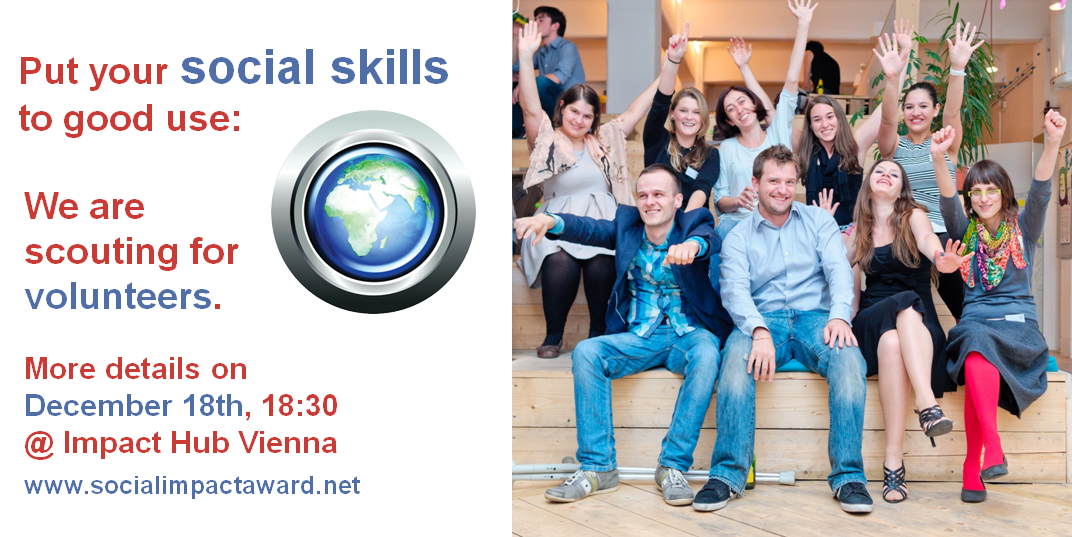 We are looking for volunteers to help us rock SIA 2014! If you are interested in social entrepreneurship and want to get involved in a growing community of pragmatic change-makers, come check out our info evening: Volunteer Info Evening December 18th, 18:30 Impact Hub Vienna – Lindengasse 56 / 18-19, 1070 Vienna. As a volunteer, you have the opportunity to: -Witness and help develop exciting ideas that will change our […]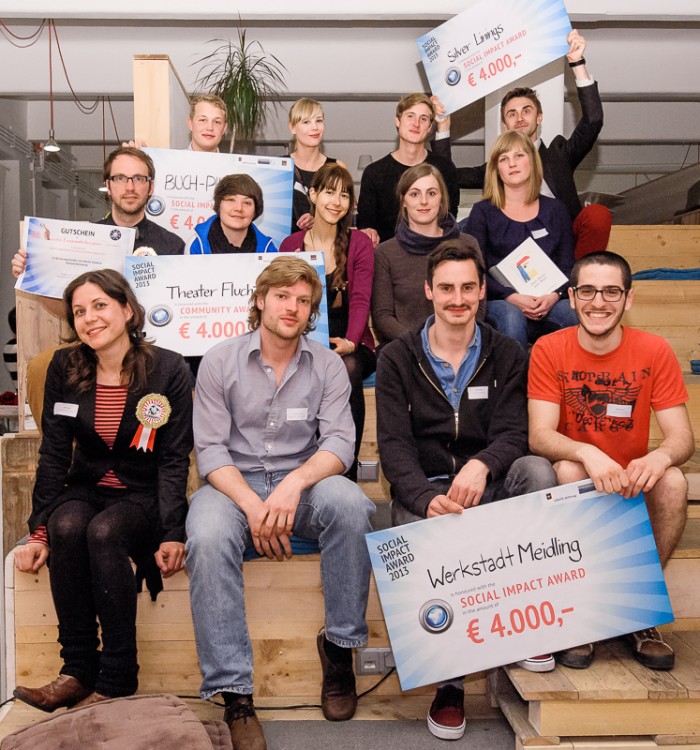 Der Social Impact Award blickt auf erfolgreiche Monate zurück: 20 Workshops in acht österreichischen Städten mit über 400 TeilnehmerInnen wurden Februar und März dieses Jahres durchgeführt. Auch bezüglich der Einreicherzahl konnte 2013 ein neuer Rekord aufgestellt werden: 235 studentischen EinreicherInnen hofften mit 92 eingereichten sozialen und ökologischen Projektideen darauf eines der vier Social Impact Award Stipendien zu bekommen. In allen vier Ländern des Social Impact Award wurden gleich 172 Projekte entwickelt – 50% mehr […]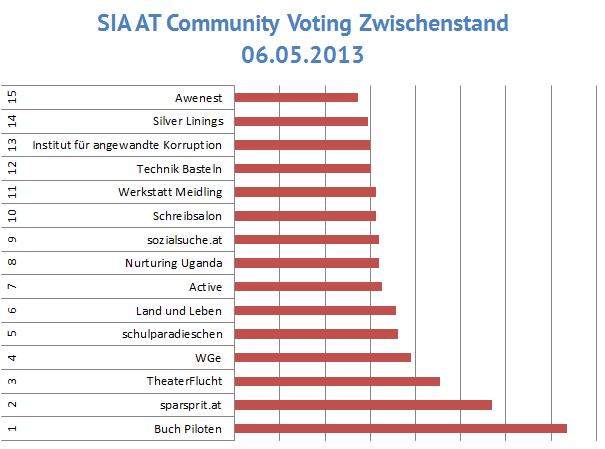 Trommelwirbeeeel… Eine Woche vor der Social Impact Award Ceremony wollen wir euch einen kleinen Hinweis geben wie´s um das Voting zum Community Award Gewinner Österreich 2013 steht. Bis 12.5. könnt ihr noch für eure Lieblingsprojekte abstimmen, noch ist nichts entschieden- deswegen stimmt ab und erzählt allen die ihr kennt vom Community Voting des Social Impact Award und verhelft eurem Lieblingsprojekt zu EUR 4.000, einer HUB Sommermitgliedschaft und professionellen Support zur Umsetzung der Projektidee! […]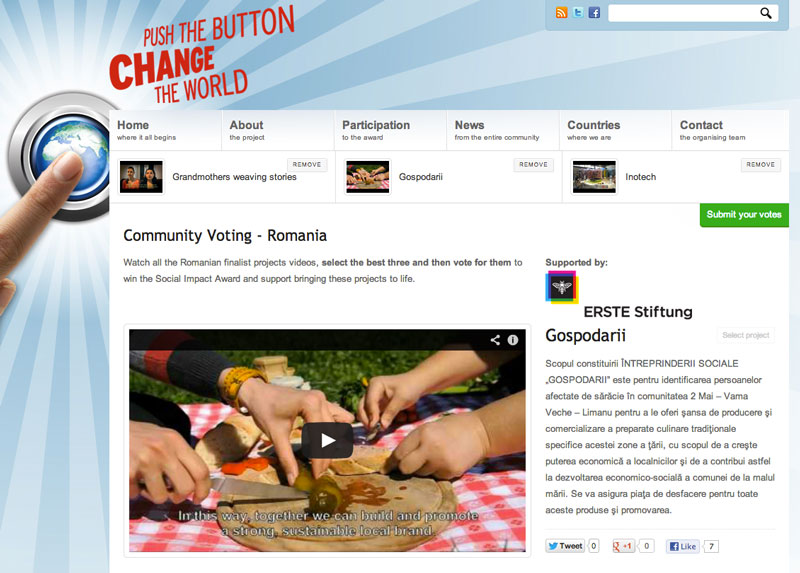 Endlich ist es soweit und aus den 92 in Österreich eingereichten sozialen und ökologischen Projektideen wurden 15 Finalistenprojekte ausgewählt. Während die Unterlagen dieser 15 Projektteams an die SIA Jury weitergeleitet werden, habt nun auch ihr die Chance euer Lieblingsprojekt zu nominieren. Eines der vier österreichischen Social Impact Award Stipendien (bestehend aus EUR 4.000 Preisgeld, Sommermitgliedschaft im HUB Vienna und professionellen Support für die Umsetzung der Projektidee) wird an das Projekt […]
Nun ist es offiziell: wir sind sprachlos! 92 super inspirierende soziale und ökologische Projektideen wurden dieses Jahr beim österreichischen Social Impact Award eingereicht, 172 Einreichungen zählen wir in den vier Social Impact Award Ländern (Österreich, Rumänien, Slowakei und Tschechien)! Die adressierten Themengebiete und Lösungsansätze sind genau so unterschiedlich wie der Background der EinreicherInnen und die Stadien der Projekte. Das macht´s nicht gerade einfacher für uns die 10-15 vielversprechendsten Projekte vorzuselektieren […]
Almost there
You need to register in order to submit your bulletin & vote.
We care about your privacy.
Read Privacy Policy .
× close