Social Impact Weekend Vienna
Starting your own project was always a dream of yours? But you weren't able to come up with just the right idea? Questions like where or how to start are […]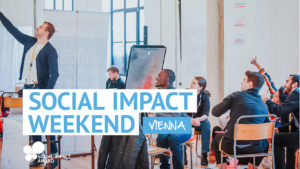 Starting your own project was always a dream of yours? But you weren't able to come up with just the right idea? Questions like where or how to start are on your mind? And you aren't even sure yet if this is the right thing for you?
Then you found your place-to-be at the Social Impact Weekend! Spark your own ideas, develop Social Start-ups and test yourself as an Social Entrepreneur at our interactive worksops of Social Impact Award.
At Social Impact Weekend Vienna you have the possibility to attend three different workshops. You can decide if you want to try just one of them or enjoy the full impact of our program. If you already started your Social Start-up and want to evolve your project (as a team) you are free to choose your attendance.
The first workshop Ideas for Change offers you a creative way to develop your own idea. In our second workshop Creating Impact you work on your projects impact and the third workshop Social Business Lab allows you to develop your own project's concept to eventually prepare your submission to the Social Impact Award.
———————————————————————————————————–
Ideas for Change
22.03.2019 15.00-18.00, Impact Hub Vienna, Lindengasse 56/17-19, 1070 Wien
You are eager for something new and want to be part of a creative group of people? A dream of yours has always been to campaign for something – but you just don't know how? Maybe you want to establish a project of your own but haven't had the brilliant idea you've been waiting for yet? You're interested in the concept of Social Entrepreneurship but don't know what it is exactly?
Our workshop Ideas for Change will help you exactly with that. Through an interactive process within your group you'll develop ideas for social projects. You'll learn what the term Social Entrepreneurship stands for and of course, what the Social Impact Award represents.
——————————————————————————————————————
Creating Impact
23.03.2019 10.00-13.00, Impact Hub Vienna, Lindengasse 56/17-19, 1070 Wien
You want to continue working on your idea? You want to haul it to next level? You're eager to comprehend and learn about the different approaches regarding societal problems? You're interested in how existing social ventures are working on changing the world? You haven't heard about "theory of change"?
Within the Creating Impact Workshop you'll have the opportunity to continue working on your project idea and especially: improve the impact of your Social Start-up! Through different tools you'll learn how you can make your project even better.
————————————————————————————————————
Social Business Lab
23.03.2019 14.00-17.00 Uhr, Impact Hub Vienna, Lindengasse 56/17-19, 1070 Wien
You want to carry your project forward? With time you're losing the overview in regard of what your project consists of and what you'll further need? You don't know what you have to pay attention to? You want to erase the blind spots? You're looking for a Business Model for your Social Enterprise?
Through the Social Business Lab Workshop you can develop your idea into a specific concept and work on your submission for SIA. We'll talk about different ways in which your Social Enterprise can be funded and what kind of Business Models are suitable for your specific idea. We'll provide the "Impact Canvas", which you can take home with you and use to work on your submission.
———————————————————————————————————————–
These workshops are part of the Social Impact Award 2019 in cooperation with Impact Hub Vienna, Students Impact Initiative Austria and Prime Movers.
We thank our domestic partners ERSTE Foundation, Impact Hub Vienna, WU (Wirtschaftsuniversität Wien), Kompetenzzentrum für Nonprofit Organisationen und Social Entrepreneurship, Hofer Österreich, Hil Foundation, Berndorf Stiftung and Wirtschaftsagentur Wien.