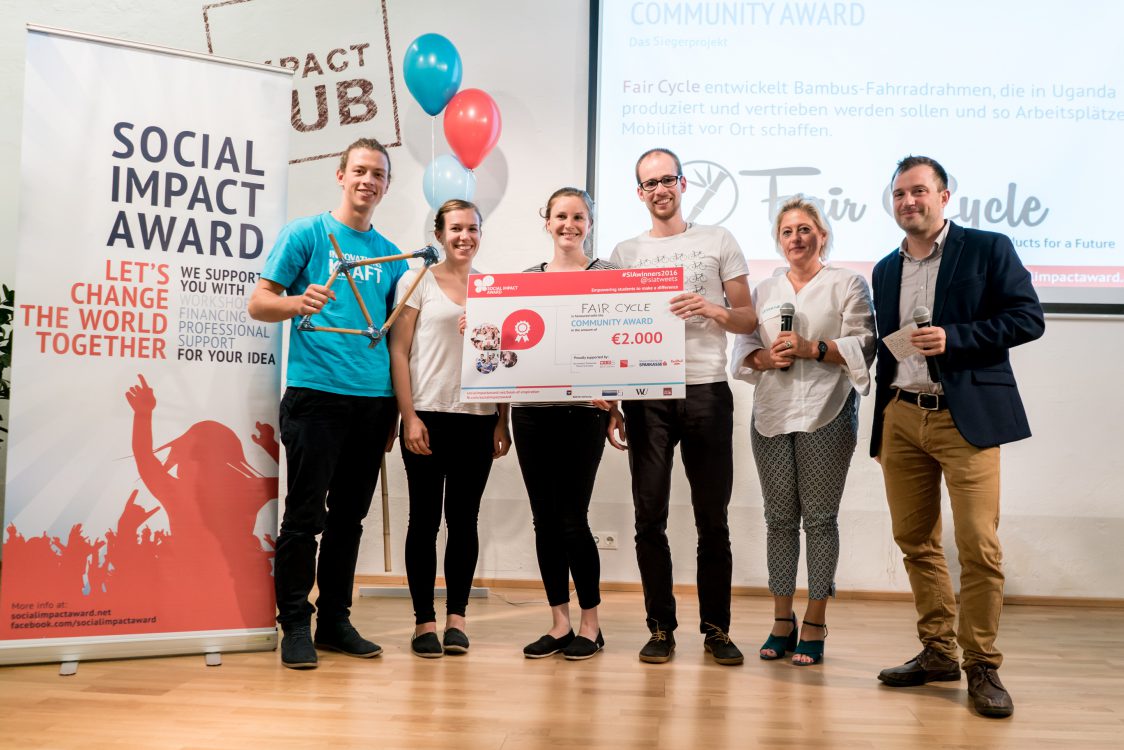 Über 1.700 Stimmen entscheiden über Community Award
In der Nacht vor dem großen Abend der Award Ceremony endete das diesjährige Community Voting. Die zehn Finalisten-Videos wurden seit dem Start des Online-Votings am 5. September tausende Male angeschaut, über eintausendsiebenhundert individuelle Stimmen gab die SIA-Community seitdem ab und entschied so über die Vergabe des mit 2.000 € dotierten Community Award.
Fair Cycle erreicht 268 Stimmen
Am Ende setzte sich das Projekt Fair Cycle mit 268 Stimmen vor den Projekten Weltkindernetzwerk (222 Stimmen) und Refugees Work (209 Stimmen) relativ deutlich durch. Fair Cycle entwickelt Bambus-Fahrradrahmen, die in Uganda produziert und vertrieben werden sollen und so Arbeitsplätze und Mobilität vor Ort schaffen.
Jedes Projekt erhielt min. 100 Stimmen
Hier das komplette Ergebnis des Community Awards. Erwähnenswert ist, das selbst das Projekt mit den wenigsten Stimmen – Feed it – über einhundertmal ausgewählt wurde. Es scheinen also alle zehn Projekte bleibenden Eindruck bei der SIA-Community hinterlassen zu haben!
Fair Cycle (268 Stimmen)
Weltkindernetzwerk (222)
Refugees Work (209)
Spätblüher (199)
Social Customs (191)
Work:In (151)
ZIAG (137)
[sic!] (135)
Jules (105)
Feed it (102)
Übrigens wurde die Jury über das Ergebnis des Community Votings erst informiert, als ihre Entscheidung, wer die vier Jury Awards gewinnt, bereits getroffen war, um eine indirekte Beeinflussung zu vermeiden!
Wir danken allen für's Mitvoten! Ab sofort sind alle Gewinnerprojekte auch in unserem Book of Inspiration zu finden.
Almost there
You need to register in order to submit your bulletin & vote.
We care about your privacy.
Read Privacy Policy .
× close