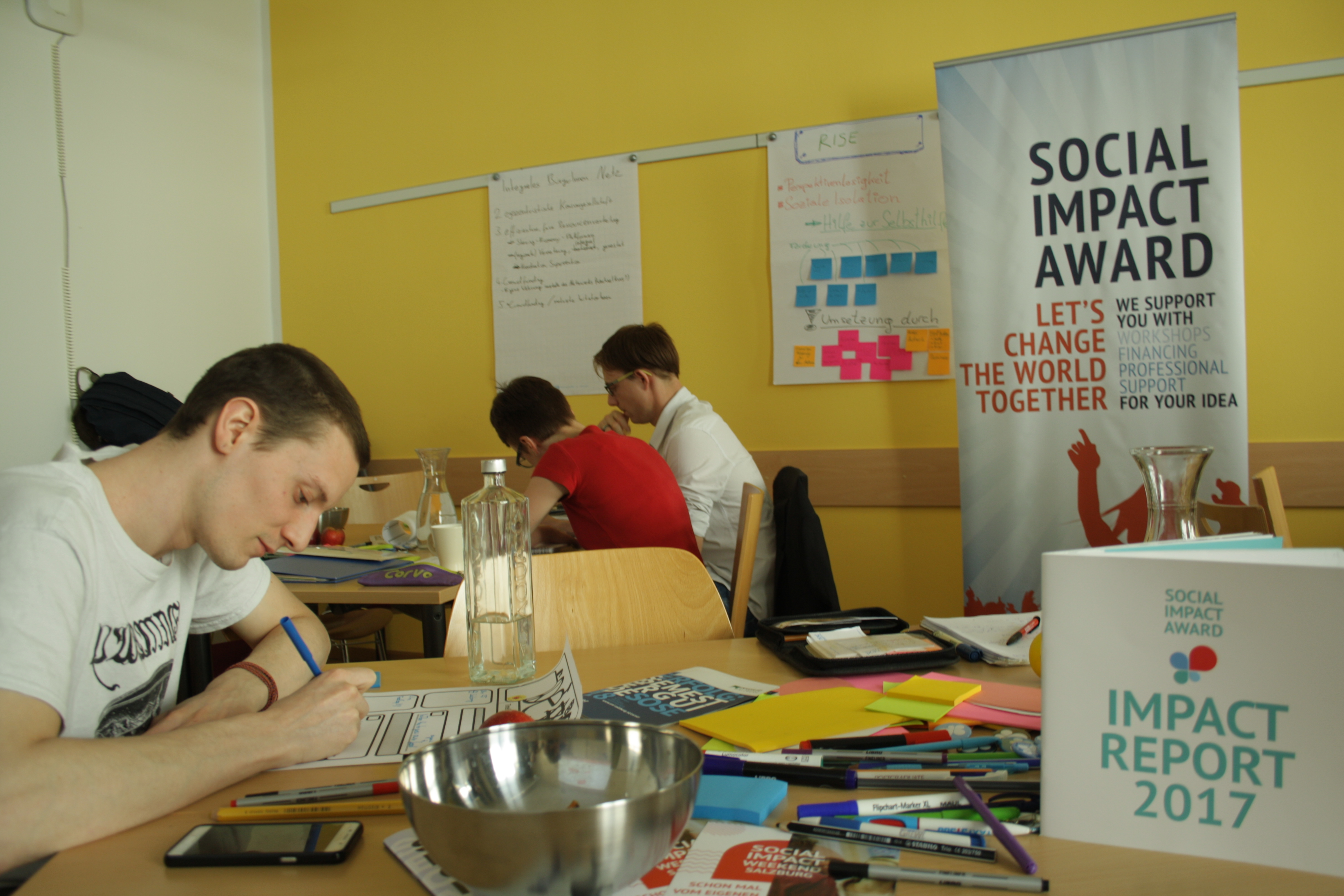 Das Social Impact Weekend im sonnigen Salzburg
Am 20. und 21. April fand das Social Impact Weekend im Career Center in Salzburg statt. Obwohl draußen hochsommerliche Temperaturen und strahlender Sonnenschein lockte, widmeten sich unsere Teilnehmer*innen an diesem Wochenende hoch motiviert ihren Projekten.
Manche Teilnehmer*innen kamen um an konkreten Projekten zu arbeiten, die ihnen schon eine Zeit lang im Kopf herumschwirrten, andere nutzen die inspirierende Atmosphäre, um ganz neue Ideen zu entwickeln. In unseren drei Workshops "Ideas for Change", "Creating Impact" und "Social Business Lab" war für jede*n etwas dabei. In allen Workshops bekamen die Teilnehmer*innen eine gute Mischung an theoretischem Input und viele verschiedene praktische Tools, um ihr Projekt auf die jeweils nächste Ebene zu bringen. "Mir haben die Workshops immense Motivation gegeben. Ganz egal, ob wir beim SIA am Ende gewinnen oder nicht, wir werden auf jeden Fall an unserem Projekt dranbleiben und die Workshops haben uns einen riesigen Schritt weitergebracht!" sagt eine Teilnehmerin.
Und was passiert, wenn Biologie-, Pädagogik- und Informatikstudierende über Social Impact sprechen? Richtig, es entsteht eine super produktive Stimmung! So entwickelte sich ein reger Austausch an Ideen, Erfahrungen und Handynummern. Unsere Teilnehmer*innen gingen nicht nur mit einer riesen Portion Inspiration nach Hause, sondern auch mit neuen Kontakten und Freundschaften. Umso besser, denn jetzt heißt es nochmal reinhauen bis zur SIA Deadline am 30. April. Wir freuen uns darauf die Projekte bei unserer Einreichung wiederzusehen!
Dieser Artikel wurde von unserer Volontärin Sarah verfasst
Almost there
You need to register in order to submit your bulletin & vote.
We care about your privacy.
Read Privacy Policy .
× close